Roberto Ramírez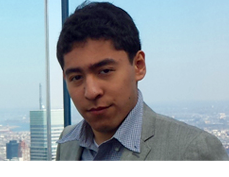 Since the beginning of the NHSMUN 2014 project we were always working, whether doing research on the Internet or writing our position papers, and although it was very hard work, none of us felt that we couldn't do it or that we did not want to do it. In fact, the more I researched about the country we were assigned to represent and about the topic we were given, the more we were attracted to them. This also happened with regard to my partners because at the beginning I didn´t know all of them, but as we worked together with increasing intensity, we became good friends.

I remember that when we were writing our position papers, we always talked about New York City and the NHSMUN model: what were we going to say, and how many people would we be addressing?

When the day to deliver our position paper finally arrived, we all knew that in a few weeks we were going to travel to New York and that we would be talking to hundreds of persons about important global issues such as media freedom and global warming. I would like to really thank Prof. Carlos Gómez for his patience and help with our written work and for preparing us for the NHSMUN.

When it was finally time to travel, we were all very excited, and as any good journey should start, we began ours running as fast as we could in the airport to catch the plane.

When we arrived at the New York airport, we were freezing, but we were happy to be there, and when we entered Manhattan Island, we all forgot the cold weather and our nervousness, because New York is a beautiful and magical city. Throughout our stay, all of us were amazed at the buildings, the museums, the restaurants, and the food. But most amazing for me was Times Square at night because of the lights and the persons, as well as the Broadway plays. Another place that I will always remember is the Rockefeller Tower and Central Park covered with snow and how we got lost in the subway.

I think that being in a beautiful city inspired us to work hard at the NHSMUN because all of us expressed our ideas to other countries, and we made important alliances, creating very complete and useful resolution papers, not to mention that we also made a lot of friends from all over the world.

As a student, the NHSMUN model is a great project because of the different tools that you learn to use, for example: speaking in front of others, research skills, and grammar skills, and they all improve your English. But the experience of being in New York is something that you will remember all your life: the city that doesn´t sleep, the city of lights. When I remember what I saw and the persons I met, I want to return to New York.

Finally, I would like to thank Miss Rosario and Prof. Kike for such a fabulous and fun trip and for all the things I learned and experienced.